Below are additional testimonials from a few of our many worldwide customers!

Freederm LLC
4624 Goodrich Road
Clarence, NY 14031
716-204-0246 24hr Order Line
Please allow a few minutes for this page to completely load. We have many amazing before and after photos of our clients that we want you to see.
I am writing to show you the results we had with my daughter. She went from clawing at her face and head, to being a happy and very content baby. Thanks so much!
---
The cream helped right away. My first apply was before i went to bed which stopped the itching immediately. By the next morning the redness was gone. By the 2nd day, the flare ups were gone. It truly is the miracle cream!
---
Here are my before and after pictures. I saw results within a couple days! I would recommend it to anyone with eczema.
Stephen S.
| | |
| --- | --- |
| | |
| Before | After |
---
Hi ,
As requested at last please find attached a wedding photo. We had an absolutely wonderful wedding and I particularly had no signs of eczema flare ups and itching at all. Thank you again very very much - I can't tell you how grateful I am.
Kind regards
Mrs Sue Fox-Williams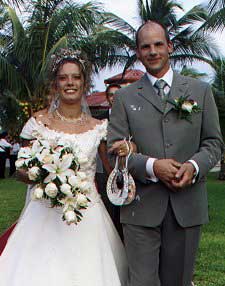 ---
My daughter was diagnosed with eczema at 2 weeks. We have been going through a five year nightmare and it's finally come to an end! Absolutely nothing else we have used, steriods, creams, antihistamines...has ever come close to doing what this cream does! We have been using the cream for about 3 months now and the difference in my daughter is amazing, as you can see. I have been recommending this cream to everyone I know of that has a child with Eczema.

Thank you so much!
Jenn.

| | |
| --- | --- |
| | |
| Before | After |
---

I wanted everyone to know there is help available for people with eczema. I suffered many weeks with eczema, going to many doctors. All the creams did not help me at all. My husband went to the internet and found a miracle cream called Freederm Eczema Cream. I was reluctant, but it was worth the try since nothing had worked. We ordered and recieved the cream on December 5th, 2003. I have to tell you that I was completely clear in two and a half days. I remain clear to this date as of Jan 14th, 2004. I have told many people of this great product. My dermatologist says IT WORKED!!! I know it did..hahaha
---
Thank you for finding an incredible treatment for eczema sufferers. I began using FreeDerm lotion on Dec 6, 2003 and experienced a remarkable recovery. After spending the better part of 2003 fighting my eczema I began to lose sleep to a point of becoming dysfunctional in late November. My mom came across your site and, based on the pictures and other testimonials, decided to give it a try. I thought I had tried everything Ė creams, a strict diet, exercise, 150 ounces of water per day (which definitely helps), supplemental vitamins, colloidal minerals, Ö you name it, Iíve probably tried it. But FreeDerm was something I had not tried. In fact, I typically donít trust websites so if my mom had not bought it for me, I probably would have missed out on the greatest solution Iíve ever found. The very first night I was able to sleep the entire night, which was badly needed. And after two days, my skin began healing rapidly. Within 6 days I was a completely different person with my eczema clearly on the way out. Within 30 days I am at least 90% clear and I reduced my treatments to once per day. Thanks to your product I can live my life again! Everyone I know that suffers from eczema is hearing about FreeDerm from me, in fact, my uncle has already experienced a tremendous recovery with his eczema.
Iím attaching pictures that are from day 0, day 6 and day 30. Feel free to use them as youíd like.
Thanks again,
Richard Walker
| | |
| --- | --- |
| | |
| Day 1 | Day 6 |
| | |
| Day 1 Close up | Day 30 |
---
I bought your product for my son. He has eczema, and it flairs up all of the time. Now that I am using the cream, the eczema is under control, and he rarely has any flare ups. He also has it on his back, and elbows, and it looks great now that I am using the cream daily. Here are some before pictures after only 2 days of use
---
I purchased FreeDerm in complete desperation to help my daughter. She had suffered from severe eczema on her hands since she was an infant, and she just turned 3. Everyone who came in contact with her asked what had happened to her hands, with many people thinking she had been burned. The skin would just peel away, and she lived with bandages all over her hands to the point where she couldn't eat or play without a lot of pain. So many nights she woke us up crying because her fingers itched and hurt so badly. As a mother, I was heartbroken to see something hurt my child the way her eczema did. I took her to dermatologists, and they all tried many different creams. Nothing worked. She was even put on oral steroids several times because the eczema flare-ups were so horrible! While on the internet researching her latest "miracle" cream the dermatologists gave her, I stumbled across the FreeDerm website. I was amazed at the testimonials, pictures and claims of almost "instant" improvement. I was very skeptical, and even emailed them several times with questions. Once the cream arrived, I immediately began putting it on my daughter's hands. I was praying for a miracle, and a miracle is what I got with FreeDerm. By the next morning, her hands were almost completely healed from the raw eczema patches! After several more applications of this cream, her hands were completely clear, and soft! So now, I just put a little cream on her hands every night before bed to keep them looking beautiful! This will be the first year she can play in her sandbox without us having to wrap her raw fingers! Please try this cream if your child is suffering. It is truly a miracle.
Jennifer

| | |
| --- | --- |
| | |
| Before | After |
---
To Whom it May Concern:
I thank you from the bottom of my heart!!! My husband has suffered from
Eczema his whole life. Just in the past year it has spread to various parts of his body, included i have two pictures of his shoulder area on his chest. This is just one of the many places that it is. the before picture was taken after the first 4hours of having Fre-derm on, (i had forgotten to tell him to take a before picture, so it doesn't look as bad as it was but it was still irratating.) the after picture was taken just 4 days after that!!! truly amazing!!! Thank you so much.
Erin & Kevin Christensen
| | |
| --- | --- |
| | |
| Before | After |
---
Hi,

My name is Jericho Pablo and I am a repeat customer and am emailing to say thank you for your product and to send some before and after pictures. Thank you so much!

Eric Pablo
---
This the eczema one week BEFORE the application of the cream. These are my three year olds thighs after one week of applying the cream. Thanks again.

Miss. Jimnieta Fray
| | |
| --- | --- |
| | |
| Before | After |
---
I just found this product last week I was reluctant to try it because I have tried everything that stated dramatic results for eczema and nothing has worked. Actually most of the things I've tried have made my eczema worse. But this produced was different, IT ACTUALLY WORKS! My eczema is almost cleared up, it is truly wonderful. I have suffered from this horrible curse for almost 5 months now and it had spread over literally MY WHOLE BODY, from head to my little toe. I had huge red patches on my legs and back, my arms were one big patch and my hands had gotten so bad that thick yellowed patches were oozing constantly. This product has dramatically reduced the red itchy areas and I have no crusty yellowed areas at all. The eczema has receded from the less affected areas altogether and the most sever areas are actually starting to feel like skin again. It is the first thing that has started to cure my eczema and not just roll it back. It works 100 times better than anything I have tried. I slept through the night the last two nights for the first time in months because the itching is finally gone. I am so excited I can play with my dogs for more than 10 minutes at a time, without turning in to a ball of red oozing itch. Thank you, Thank you, THANK YOU!

P.S. It was delivered in a very timely manor too, thanks.
| | | |
| --- | --- | --- |
| Before | Before | Before |
| | | |
| | | |
| After | After | After |
---
Hi, We are most impressed with the cream and wonder if you would consider selling a license to us, to have it manufactured here in Australia, allowing easier access to the the cream for all Australians.
This is just a thought for now let us know what you think and we can talk some more. Thankyou!
John Simpson -- Happy cream user !!

---
Just a note to thank you from the bottom of my heart. I have an 11 month old who has been SUFFERING with this since she was about 2 months. We've been to every dermatologist & allergist we could think of & nobody could offer her any relief. I was a little skeptic when I first purchased your cream, but it is exactly what you say a "miracle". I will be sending you before & after pictures soon. I just wanted to thank you for taking the time to think of others who were having the same troubles you had.
Thanks Again!! CJ Hammond
---
Hello,
My name is Chad Mills. I am a pharmacist at an independent drug store in Murfeesboro, TN. The name of the pharmacy is Reeves-Sain drug store. We have 3 stores in the area and are one of the largest independents in the middle TN area. Tonight one of my customers told me about your product and showed me their darling little girl, who is now eczema free thanks to your cream!!! I am now a believer and would like to congratulate you on coming up with such a miraculous product. I am so very excited about it. It will surely change the lives of many in the future. If possible, I would like to stock it in our 3 stores in town. I was wondering if you sell it in bulk at a lower price so that it can be resold for the same price you would pay on the internet?? If so, I would be very interested in ordering several dozen jars. If not, I will still forward individuals to your site, eczemamiracle.com.
Thanks for your time,
Chad Mills Pharm. D.
Chief Pharmacist Reeves-Sain Drug Store

---
Hi,

First I would like to thank you for making your product available to some many people who lost hope in finding something that actually works. I have had eczema since I was a child and it really never bothered me. When I turned 22 it disappeared and I thought I was growing out of it. But I was wrong, the past year and a half by skin broke out really bad and for the first time was interfering with my everyday life. I have been using FreeDerm for a little over a week, the intense itching has disappeared the redness is fading and my skin is starting to feel soft again, I will be sending pictures. Even my boyfriend has noticed. I have also put in another order for my mom.

The question I have is FreeDerm safe to use while you are pregnant or would you recommend to discontinue the use till the pregnancy is over?

Once again I want to thank you for making such a difference in my life and I'm sure in many others. I will be sure to recommend this product to everyone I know who is suffering with eczema.

Jennifer
Toronto, Canada

---
This stuff really worked for my son. Nothing has ever worked before, not even prescription drugs!!!!

What is the website so I can reorder. Linda
---
I have been meaning to send you a testimonial and finally here it is: Like most others, I was skeptical about your 'miracle' claims, but when you are desperate, you will try anything. My six-month-old son had eczema - not severe though getting there - but what was driving me to despair was his incessant itching, mostly of the head and face and mostly at night. Your product arrived in the UK in 7 days and my first impression of using the cream was its silky-soft texture. No other cream made my son's skin feel quite so smooth nor so instantly. Within 5 days, he as almost clear with no more itching and scratching. He still rarely sleeps through but if he wakes it is no longer due to the itching and his skin is finally as baby soft as nature intended.

An interesting postscript though is that after a week, I thought I'd better limit use of the cream to only the areas that still needed it and return to using the base emollient cream underneath that I had been prescribed by the doctor. Within a day or so, his skin had flared up again and I was back to

square one. I was so disappointed but couldn't believe it was due to the base cream from the doctor. Still, it was the only thing I had done different since his near-cure, so I stopped use of the prescribed cream and only used your product and my son's skin cleared up again. He has been fine since and I have therefore been recommending your cream to all the other mothers I come across whose babies have seemingly 'incurable' eczema.

It makes me wonder why the pharmaceutical companies haven't been banging on your door. Probably because they make their profits from people using their products repeatedly and for many years, and which often, like the base cream from my doctor, only exacerbate the problem. One of your generously-sized pots could be sufficient for a near or complete cure plus occasional

maintenance for several months to a year - certainly for a baby anyway. But none of your ingredients are revelatory - why hasn't this mixture been put together before? It makes you wonder how many other truly effective treatments are being withheld.

Thank you for what you do.

Sharon C, England

---
Wanted to let you know that your service on shipping the product was excellent!!! I wanted to leave feedback on ebay but could not find where to leave it. Thank you. I look forward to using this product.

Carol Burger

---
Thank you for your wonderful cream, and prompt service.

Freda Crossman

New Zealand
---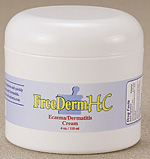 Click HERE to PLACE AN ORDER | Testimonial page 1 | Testimonial page 2 | Testimonial page 3
Testimonial page 4 | Testimonial page 5 | Testimonial page 6 | Testimonial page 7

CLICK HERE to return to our Home Page & Read The Complete Story Behind This Product

Call 716-204-0246 24hr Order Line

We ship worldwide to all Countries