Still Not Convinced About Our Products?

Below are additional testimonials from a few of our many worldwide customers that may convince you! We have helped over 100,000 customers.


Freederm LLC
4624 Goodrich Road
Clarence, NY 14031
716-204-0246 24hr Order Line
Please allow a few minutes for this page to completely load. We have many amazing before and after photos of our clients that we want you to see.
---
To whom it may concern,
I am emailing you to let you know how well your cream has worked for me. It was amazing my chin and upper lip were unbearable and nothing would help. They were cracked and oozing and the itching was terriable. I used your cream for only 3 days and the rash is completely gone. Now I use it once a day at night and no more problems my face is clear. Thank-you so much again for this miracle.

Marla De Hart

| | |
| --- | --- |
| Before | After |
| | |
---
Thank you first of all for this wonderful product. This african american female is in awe of what it has done. At 38 yrs old I've had eczema for as long as I can remember and its been embarrasing and very very irritating, and frustrating to say the least. I am about to order my 4th jar of freederm because it works so well on the dry patches of eczema throughout my body. It's good to see those hard to combat areas come under control when I use the cream. My hipjoint, back, behind the knees, patches on my back and stomach and my forearms, elbows were all covered in eczema that no matter what cortisone or triamcilone, or even the dermatologist solutions couldn't help or take care of. And lets not talk about the never-ending itching all day long so much that driving to work was a chore just to sit still behind the wheel without having to slow down and scratch somewhere. As a child i got teased, called inhumane names and no one wanted to hold my hand or play with the girl with the ugly skin. Children can be so terible at times its sad. I had my skeptics about this product but was so glad to see the photos on your webpage that actually related to my own experience. I am noticing after the first jar I bought that my skin is 100 times smoother than before, the itching is decreasing-tho not gone totally it is definitely minimized. The patches of dry skin that covered certain areas are now dried up and gone so they don't even itch anymore.
What a great product you have here and so glad to be in the number of those benefiting from it. As my husband was applying the moisturizer to my back this evening he exclaimed "wow, the color in your back is changing" I laughed and told him its not changing, its returning! The once blackened spots that were there as a result of my years of itching, are all going away.
Teri in Atlanta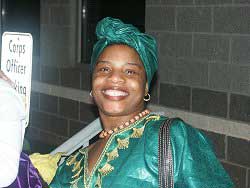 ---
Hi Michelle, here are the pictures of Austin, his skin really looks and feels great! We all just got back Saturday from vacation! We could not believe it! Austin got in the ocean! His skin burned just for a few minutes, then it went away, he loved the ocean! For his first time Austin really enjoyed vacation, we took lots of video and pictures. I am going to send you a few now and more later after my husband downloads them. Well Michelle, Austin says thank you so much and so do we his whole family! I thank God and i mean that with all my heart. Thanks Michelle your friends Trudy, Austin, and family!
oh yea Austin is waving at you on two pictures, and he has a great big smile for you!!!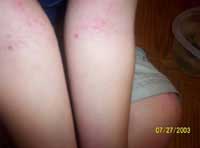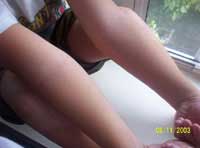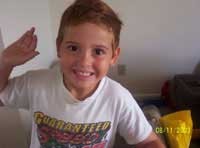 ---
Here are the pictures of our son before and after using the FreeDerm HC cream. As you can see his face has cleared up dramatically. The before pictures were taken on 7/23/03 and the after was taken on 8/18/03. The after was the first picture since November 2002 I had professionally done because his face was never clear enough. We are so happy with the results.
Sincerely Diane, mother of Ryan
| | |
| --- | --- |
| | |
| Before | After |
---
To Whom it may Concern,
Here are the before and after pictures of my son. I am so impressed with your product, FreeDerm HC, I can't begin to thank you enough. The results have been wonderful as you can see from the pictures. My son is a much happier child. I don't ever want to be without this cream. Thank you so much.
Kristen Barlow
---
When I found your web page I was very discouraged and not being able to use my hands without pain, and the itch was unbearable. I believe God led me to you web page in my despair, and has used you and your product to bring healing to my hands. I thank you for offering this cream, and I hope to never have hands like those first pictures again. I'm curious what the pharmacist must think when he sees the cream helping so many people. Again, I thank you, and I attached some pictures of my "normal" looking hands. (I almost forgot what that looks and feels like!).

God Bless you!
Shirl

---
Please note my before and after pictures of my left foot. I've had eczema on this foot for over 5 years. I've tried everything ,so I was very skeptical of your product but looking at the before and after pictures and the quick healing time convinced me to try it. After a short time using it along with your instructions I started to see results!! Here are the before and after pictures after a short time of use, and I still have plenty of cream left to finish the job. Thank you for putting out such a great product at a Reasonable price!!!! Thank you, Patricia Vizvary (actual photos sent to us by Patricia below)
| | |
| --- | --- |
| | |
| Before | After |
---
Yes!! I absolutely LOVE FreeDerm HC, the eczema miracle cream! My poor baby had eczema for over 2 months, she was constantly scratching at her face only making it worse. I tried other creams, but they just made her face greasy which then got all over her hands or all over the socks she was wearing over her hands, and they did not clear up her eczema. This made me so frustrated! I even had to place those large square bandages over her face, but it wasn't long before she rubbed or pulled those off. She was constantly fussing and rubbing at her face. Whenever we went out somewhere people would stop and look at her and say "oh no! poor baby, what happened to her face?!" which I would then have to explain about her eczema. After finding your website, I sat on the idea of ordering your product for a week and a half. Someone had just given me yet another face cream to try, swearing by it and how it helped her son. So I tried that cream for a week and it didn't help one bit. Finally I decided what can it hurt, there's a money back guarantee, so I ordered the FreeDerm HC. When I received it, I put it on her face 3 times a day and I saw amazing results by that next evening! The cream doesn't just sit on the surface of her face but it soaks in! So there's no mess to get all over the place. You can see from the pictures how her face looked 2 days before I received the cream, and how wonderful her face looks after only 4 days of using this cream! After over 2 months of trying other "eczema creams" or anti-itch creams with no results, your product started healing her sweet little face in less than 2 days! And it just continues to get better. There truly are no words to thank you enough for finding this product and offering it to others. My baby girl is a silly happy girl now, with no worries of an over itchy face. Thank you!!
Michelle
---
My little girl Belinda, now 8 months is doing very well & the Eczema miracle cream is really doing a fantastic job keeping it under control. We used to feel bad about taking photo's of her when she had bad flare ups of eczema, so we hardly had any photo's of her as a tiny baby but now we can take them every day. Here is a picture of Belinda, she is precious to us & thanks to your team we can show her off even more.

My Regards to you all,
Phil Vipond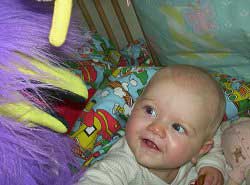 ---
Dear Friend,
I bought a jar of your Free Derm HC cream on 27 September 2003. I used it for the first time on that date. Up until that time my eczema had been spreading and was unbearably itchy at most times. Immediately after application I was aware that the itching stopped. At the end of 1 week it was hard to see the affected areas and there was no itching. I have attached photos of my legs. The first is before applying the cream and the second after only one week. I continue to apply the cream and get relief from the symptoms of eczema.
Thank you for your wonderful cream, and prompt service.
Freda Crossman
New Zealand


| | |
| --- | --- |
| | |
| Before | After |
---
The eczema cream that we purchased from you is wonderful. Our daughter has been dealing with this problem off and on for a bout 3-4 years. We have been to the doctor, tried many prescription and over the counter creams that just haven't worked. The difference it made after a few days was very noticeable. Over the course of two weeks it has made a monumental turn around from what we're used to. The itching and redness has subsided. I would recommend this product to anyone.
Thank you very much. Brad and LuAnn Kline
| | |
| --- | --- |
| | |
| Before | After |
---
My name is Nancy and I am keeping my 6 month old granddaughter during the day, she is 6 months old. I started keeping her about 3 months ago. Her name is Casey and she has had a bad case of eczema since birth. For 3 months now, I have tried every kind of over the counter skin cream imaginable. Her doctor said she will probably outgrow it, but the kid is itching so bad, I can't wait for that. Casey had unbelievable cradle cap and all the shampooing and baby oil just doesn't help.
She has red and scaly skin in the bends of her legs and arms and the back of her neck. I bathe her daily, but nothing helped until I tried your product Freederm HC.
I am so thankful I am sending some before and after pictures. She started healing immediately, it was amazing. She used to rub her little feet together all the time, this was her way of scratching them. As you can see in the picture, they were really inflamed and red. After just 1 days use, I noticed a big difference in her whole body healing. I thought "This stuff is a miracle". Nobody knows until they have seen someone they love or have agonized through eczema themselves, how wonderful this cream is.
I am telling everybody I know about it and have written down your website on a piece of paper and carry it in my purse. Thank you for the information about bathing. I started doing that, using just a few drops of baby oil in water, no baby harsh soap or harsh shampoo.
Thanks so much, you have truly made a difference in a lot of peoples lives, I'm sure.
Nancy Brooks, Jacksonville, Florida
---
I've had dry, cracked skin since birth. So, for 32 years I've endured the scratching, blisters, cracked skin, bleeding, oozing grossness of eczema. Since having 3 children, my hands were constantly in soap and water, making my hands unbearable. I tried triple antibiotics, Crisco, OTC hydrocortizone to try to relieve the dryness, the itchy feeling and the pain. I tried to find products that would deliver more "bang" results for my bucks because of our tight budget. Nothing has cleared the eczema.
My husband found your website and I was skeptical but decided to try it. The container of FreeDerm HC came in the mail, I think in 3 days. I followed the directions but remember I have little ones so the results didn't really show until about 3 days later. I can say though with great happiness that two weeks later my hands had cleared up. Sure I still have dry skin, but now I dab a little of FreeDerm HC on my problem spots and feel the itchiness go away. (It's been my little miracle.) I've already recommended FreeDerm HC to family and friends.
Thanks Again.
JoAnn Bryd
Sacramento, CA
| | |
| --- | --- |
| | |
| Before | After |
---
Thank-you so much for your amazing product. We have watched our 5 year old suffer with eczema for so long and tried several different creams (and doctors!) to no avail. One night while searching for anything to help him I stumbled onto your site and the pictures looked like him. I didn't think that it was possible for him to have baby soft skin, but after only 2 weeks of using your product he does! Thank-you so much for making it available to everyone.
| | |
| --- | --- |
| | |
| Before | After |
---
I ordered a bottle of your Freederm Eczema product a few months ago in desperation to get rid of some irritating, inflamed eczema sores that were only getting worse. I was very excited when the product arrived in the mail only a couple of days later! What service! On top of that, I was noticing great results after only a few days worth of application (3 times a day to every affected area). I wanted to send you some before and after photos, especially because seeing the photos on your web site really influence my decision to try your product. Thank you so much for your help.
---
I wanted to thank you for the miracle cream FreeDerm I discovered on the web. My 8 month old baby girl had eczema since she was 3 months old. I used all kinds of cream - Elidel, Protopic, etc and nothing worked. I got tired of people asking me what was wrong with my baby's face. Now they keep asking what did I put on her face, it's so clear. I'm so pleased with your product. I thank God for directing me to your website to find this miracle cream, usually I don't have time to go online. Thanks again for giving my baby's skin back.
May God bless you,
A very happy mom,
M. Maurice
| | |
| --- | --- |
| Before | After |
| | |
---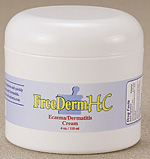 Click HERE to PLACE AN ORDER | Testimonial page 1 | Testimonial page 2 | Testimonial page 3
Testimonial page 4 | Testimonial page 5 | Testimonial page 6 | Testimonial page 7
CLICK HERE to return to our Home Page & Read The Complete Story Behind This Product
Call 716-204-0246 24hr Order Line
We ship worldwide to all Countries